Netflix kicked off this summer in a powerful way by renewing the Sex Life 2nd edition. The Series was initially released on 25th June 2021. Stacy Rukeyser created the Series, and the Series is shot in Mississauga, Canada. With an IMDB rating of 5.4/10, and has received 23% of Rotten Tomatoes. This Series falls around the genre of Drama, and about 80% of Google Users liked the Series. Starring Sarah Shahi, Mike Vogel, Adam Demos, and Margaret Odette in the lead roles.
Overview of Sex Life 
The octa-episode series has a beautiful storyline inspired by BB Easton's 44 Chapters about 4 Men. It's about a suburban mother with unique fantasies and overwhelming desires. The mother of two Hudson and Ellery is revealed to have the wildest and wild dreams. She takes the fantasies as the reference and sets her present married life in a collision with her wild childhood reverie. The raunchy series is about the love triangle between the suburban mother Billie, her husband Cooper, and her lover Brad. Before her marriage, Billie used to explore her sex life with Brad and was quite delighted. But unfortunately, things become worse when Cooper finds about the different sex life of his wife, Billie.
With a 5.4/10 IMDB rating and 23% of Rotten tomatoes, 22 critics viewed the storyline, cast and one of the critics said that- "Suffocating its more provocative ideas with steamy interludes and melodramatic writing, this erotic drama is too obsessed with sex ever fully to come to life."
What will happen next amongst this trio? Will Billie still be able to meet Brad? Will Cooper end his marriage? Too many questions and one solution in Season 2. Reportedly Netflix hasn't made any official press release on the renewal or release of Season 2.
Will Sex Life Season 2 release this year?
Buffs are fantasized about the Sex Life series and, upon the end of Season 1, wants Season 2 to air as they hold on to their pleasures of life. Just kidding!!
Unfortunately, Netflix hasn't reportedly said anything about the release of the second season. But there's hope as the creator has given the green light to the following seasons. So if the production starts by this year, we'll supposedly get to see the Season 2 streaming by the mid-2022 or end of 2022.
Sarah Shahi, who plays the role of Billie, spoke in an interview that – "I hope we get another chance to do it again because I sure do love Billie a lot. I hope these stories continue to spiral even more down the rabbit hole than they already have."
Again she added- "Billie's gotta live in this complex world. She's sexual, and she's unhappy, and she's happy. So there's just a circus of things to explore with her."
Expected Storyline of Sex Life Season 2
Billie says she wants to be with her husband Cooper, maintaining a happily married life but still sees Brad and has sexual relations with him. After eight years of staying away from each other, still, Billie and Brad have such great sexual chemistry. So it's ambiguous what's in her mind. Billie wants both, and it is clear that there is a big question mark if she would get all or none. The last episode of the season finale showed how Billie rushed to meet Brad, unaware that Cooper is tracking her.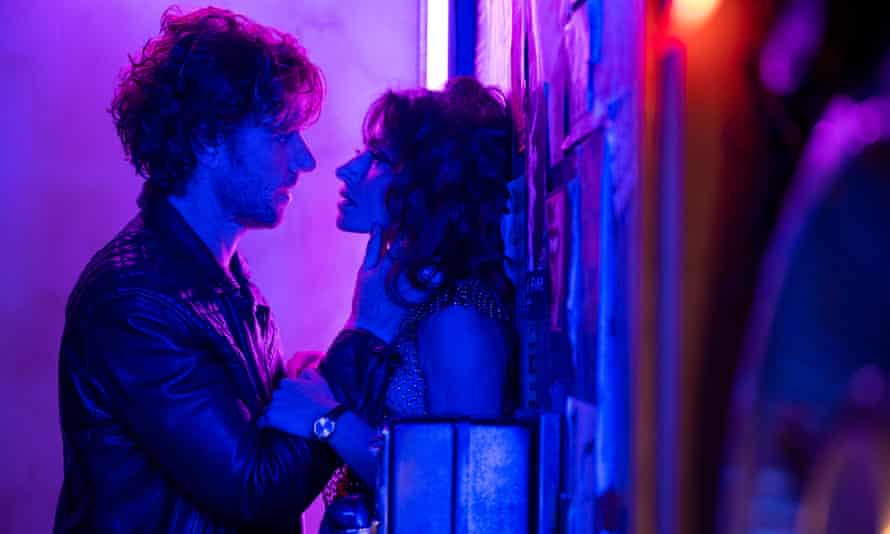 As we all know, Cooper finds the whereabouts of Billie and Brad and their intimate relationship. The story might show the troublesome married life of Billie and Cooper. But the question is, Will Billie, sacrifice her fantasies and desires for Cooper? Or She'll still meet Brad and have streamy sex in the back of her husband.
Sarah is happy to see Sex Life Season 1 in the Top 10 for a week in almost 87 countries, including the US. Nonetheless, Netflix keeps track of views for over 28 days, and Sarah insists everyone complete watching the series.
Why Did Billie Vouch For Brad?
Everything starts getting edgy and finally goes off track when there's no spark left in a relationship; the same thing happened with Billie and Cooper. Cooper didn't give enough time, attention, and love to Billie, leading Billie to write a diary, feeling and remembering her ex-boyfriend Brad. But, unfortunately, Cooper went through the logs, and out of jealousy, went to check out the notorious shower scene.
Sasha, who Margaret Odette plays, is Billie's best buddy and casual lover to Brad. Meanwhile, Cooper's friend Devon and his wife Trina suggest something to amend Cooper's married life. 
5 Things Netflix should Add in Season 2
Everything is nearing perfect, but it's not perfect. So I want to point out stuff that is purely my opinion on the series. 
First and foremost, Billie is in a dilemma, and the question is Whom To Choose? She wants a perfect married life with Cooper and still wants to continue her wild raunchy sex life with Brad. And to me, none of these men are desirable. So in Season 2, makers should give Billie more choices to make the plot a little bit interesting. 
If people don't agree to the first point, there can be a possible equation drawn between Cooper and Billie. Everyone has fantasies and Cooper treating his beautiful wife with no affection, treating him just like a mother of 2 kids. Instead, Cooper should spark his relationship by being physically, emotionally, and sexually connected to Billie. In short, he should act more sympathetically.
If Billie doesn't want to choose between Cooper and Brad, she should study and go deep into the reason for her obsession with Brad. After all, their relationship ended very badly. I'm not saying Billie didn't try; she went to a psychologist and talked about her problem but didn't go deep.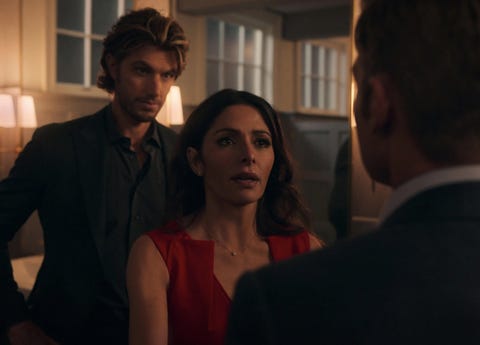 And lastly, this is something my personal opinion, I don't want any of our readers to get affected. But I feel there should be less nudity in the entire series. I would instead frame it like the actual message somewhat doesn't reach the crowd because I don't like it. So soft Porn should stay Soft.
The Drama describes the importance of having pleasures and fantasies in everyone's life, specifically in a woman's life. Showing much nudity in the scenes somewhat deviates from the actual message.
Expected Cast to Return and New Entries
There's no doubt that the four lead characters will return. Sarah Shahi, Mike Vogel, Adam Demos, and Margaret Odette are 101% confirmed their comeback in Season 2. If Season 2 gets a green signal and is renewed, they'll return with damn the best plot. In addition, we might see Jonathan Sadowski and Amber Goldfarb returning in Season 2.
We hope that Season 2 gets aired soon. We want to see more extreme fantasies and experience pleasure in different ways.