Beastars, the popular anime series, has recently released its second season on Netflix. The second season was released in Japan from January 7, 2021, to March 25, 2021. However, recently all the twelve episodes of season 2 have been dropped on Netflix, leaving the fans wondering when season 2 will be coming.
The series is based on the Japanese manga series of the same name by Paru Itagaki. A studio called Orange adapted the comic series into Anime. Shin'ichi Matsumi directs the series.
The series first aired in Fuji TV's anime block was. Later, Netflix too acquired streaming rights and released all the episodes of season one on March 13, 2020. Finally, season two of Beastars was released on Netflix on July 15, 2021. However, there have been no announcements yet, regarding the third season of Beastars.
Season 1 of Beastars 
Beastars follows a world where animals live a life like humans; they still have their wild urges to fill. The series follows a group of young animals and their struggle to overcome their desires. Herbivore and Carnivore animals all live together and try to maintain peace between the sections.
All hell breaks loose when one of the carnivores kills Tem, an Alpaca. Legoshi, a tall wolf, tries to mend the relationship between herbivores and Carnivores with the help of Louis, a red Deer. Louis plays the lead role in a school play. Unfortunately, he gets replaced by Bill due to the leg injury that he faced a few nights ago.
Louis still becomes the hero of the series when a real fight breaks out between Legoshi and Bill, and Louis steps in to stop the war. He is appreciated for halting the carnivores from fighting. They get a chance to perform at a town festival; Louis asks Legoshi to stay part of the drama club.
Legoshi meets Haru, a white dwarf rabbit who stays alone all the time and has no friends. He is attracted towards her but is confused if he wants to eat her or has genuine feelings. With the help of a Psychotherapist from Black Market, he analyzes his feelings. He saves a young wolf from bullies causing her to start liking him.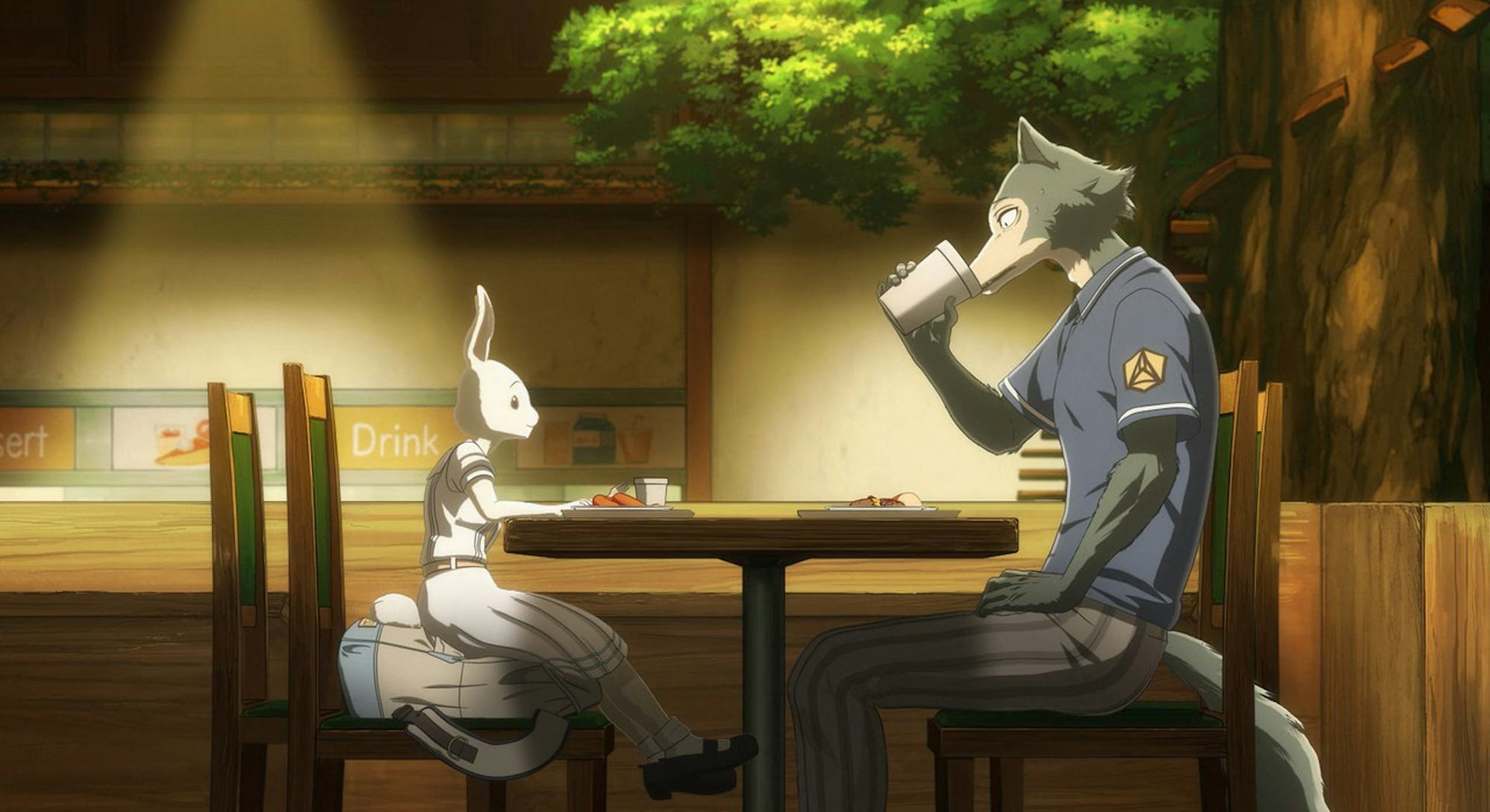 Legoshi grows close to Haru, and Haru expresses affection for him. Louis, too, has feelings for Haru. But both of them are indifferent dilemmas with their emotions. Legoshi finally accepts that he is in love with Haru. But Haru soon gets kidnapped by Shishigumi, a lion gang wanting to eat her.
Legoshi rescues Haru, but Louis is left behind due to his conflicts with his past. Legoshi managed to rescue Haru, but when the kidnappers' leader tries to shoot Legoshi, he gets killed by Louis, who had come to save Haru. Legoshi and Haru escape, but season one ends without showing what happened to Louis. Instead, Legoshi and Haru give each other more time to understand their feelings and get their instincts in control.
Season 2 Of Beastars 
(Spoilers Ahead)
In season two, it is revealed that Louis is now the leader of Shishigumi. When is asked by several of his friends, he refuses to go back to join his school. Instead, he asks his guardian to unenroll him from school. Louis being a herbivore, is forced to consume meat to prove his leadership. Louis is determined to stay in Black Market and leave his school life behind.
The contest of the ultimate Beastar is the new talk of the day for the school. The school's all organism council meets and decides that whoever solves the murder of Tem the Alpaca will be the Beast. Several candidates start looking for the murderer, including a new drama club member Pina.
Legoshi is preparing himself for more strength to fight his fellow carnivores, who appeared to be stronger than him. He tries to maintain a discrete life by going to school daytime and training at night. He tries to keep his distance from Haru, trying not to give in to his urges. He is also worried that their relationship might not go anywhere, with his weak instincts and inability to win a fight. He trains in the Black Market by disguising himself and hoping any of the members from Shishigumi don't recognize him.
Legoshi discovers the identity of the murderer of Tem, and they both break out into a fight only to reschedule the duel. Unfortunately, Pina becomes a victim of the murderer when he tries to reveal the truth and gather evidence. Legoshi asks Louis to help with the upcoming fight. Louis, however, makes a huge sacrifice to help Legoshi win the war. The season ends with the murderer going to jail and Haru asking Legoshi about their relationship.
Season 3 of Beastars
The manga series has recently released new volumes for Beastars. The fans are expecting for Beastars to have another season or two. However, the makers or even Netflix per se has not announced anything regarding season 3 yet. Instead, they are expected to announce the renewal of Beastars for a third season.
Season 2, released on Netflix only recently, has not failed to answer several questions the first season had left behind. The series has a lot of viewership in Japan and across the world. The fans worldwide are in no mood to wait for more of Beastars with the excitement the second season brought.
We might have to consider that season 2 was only recently released on Netflix worldwide, and the makers will take more time to decide if they want to make another season for Beastars. The fans might have to wait for at least a month or two more to get any news on the renewal of Beastars for season three.
When will Season 3 of Beastars Come?
The second season of Beastars was aired on Japanese local channels from January to March 2021. It was released on Netflix in July 2021. The gap between the air date and the Netflix release of the first two seasons suggests that we might have to wait till at least mid of 2022 to get Beastars on Netflix, considering it will air on the local channels months prior.
The manga series still has a lot of content for the anime to adapt, spinoff versions of the same universe. It can all be adapted into anime series. The manga volumes can still be adopted into at least twenty to twenty-four episodes divided into two seasons. The anime is expected to have four seasons in total. But as there have been no announcements regarding the same, we will have to wait for the creators to announce the renewal or cancellation of the anime series.