Developed by The Outsiders and published by Funcom, Metal: Hellinger is a game that is a mix of metal music, demons, and action where the player has to shoot rhythmically. The basic idea of the game is pretty simple – the player carries a variety of fascinating weapons, walks around various levels, and battles with the demons from Hell.
'The Outsiders' revealed the gameplay trailer during the IGN's Summer of Gaming festival. The game shows players killing demons in hell. It first begins with the drums, and as the players kill, the music builds up with individual instruments, and then the vocals drop in. If you want to know more about this upcoming exciting game, scroll down below.
WHAT IS THE EXPECTED RELEASE DATE OF METAL: HELLSINGER?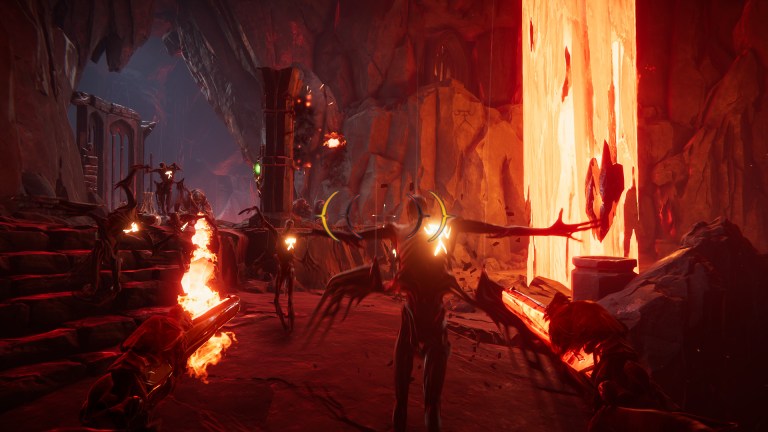 Currently, The Outsiders seems to be in the process of testing and development of the game. But the good news is not too far from us. The developer hopes to get it done by 2021. So even though the exact release date is not known. We can expect it this coming year.
The game will be available on PC, Xbox One, Xbox Series X, Playstation 4, and Playstation 5.
METAL HELLSINGER: WHAT IS THE GAMEPLAY?
Metal: Hellinger tries to mix guitar riffs with first-person shooter action. The game includes a story mode for the players to ram through the various levels of hell, and also a challenge mode to take on different songs to achieve the maximum score. As the character becomes more powerful, the music becomes more intense.
Also, one very important aspect of the game is that the player gunshots should match the rhythm of the soundtrack and action. Joel Bylos, the CCO of Funcom, comments, " Each level will have its song, and every song will be divided into multiple layers. Your performance will impact how many layers of the song will be played at a time, starting with atmospheric background music, and ending with powerful metal anthems."
METAL HELLSINGER: SOUNDTRACK
The game will feature a heavy metal soundtrack of vocal performances from Mikael St Anne of Dark Tranquility, Matt Heafy of Trivium, Alissa White Gluz of Arch Enemy, Soilwork's Bjorn Strid, and many more.