Showcasing the brutality of a dystopian society, The Handmaid's Tale grabbed all attention and accolades when it was first premiered in 2017 on Hulu. The series is based on Margaret Atwood's bestselling novel of the same name. The series has been lauded and honoured with prestigious awards, including strings of Emmys. With its exclusive coverage on Hulu, it inspired the political activists across the world.
What's the premiere date for The Handmaid's Tale season 4?
Fortunately, a few weeks before the finale of season 3, The Handmaid's Tale has been officially announced to be renewed during the Television Critics Association press tour. While the news of renewal for the fourth season brought a smile on every fan's face, the premiere date is not yet confirmed.
The first season premiered on April 26, 2017, and season 2 aired 364 days ahead on April 25, 2018. Season 3 landed on Hulu on June 5, 2019. Season 3 took a bit longer to premier than the last, streaming 406 days after the second season 2. Looking at the pattern, we hope the next season will hit the streaming site in the summer of 2020, likely in early-to-mid-June.
What will Season 4 hold for June?
The finale of the third season saw June Osborne successfully rescuing 50 children from the dictatorship of the state. In doing so, she gets severely injured in a confrontation with a Gilean guard. June is shot in her shoulder. She is eventually assisted by her fellow handmaids who carry her away in a manner that mimics a funeral possession. The finale left us in speculations as to whether June is alive or succumbed to her injuries. Will Operation Mayday be the last act of rebellion of June? Will season 4 come up with a new protagonist if June Osborne is dead?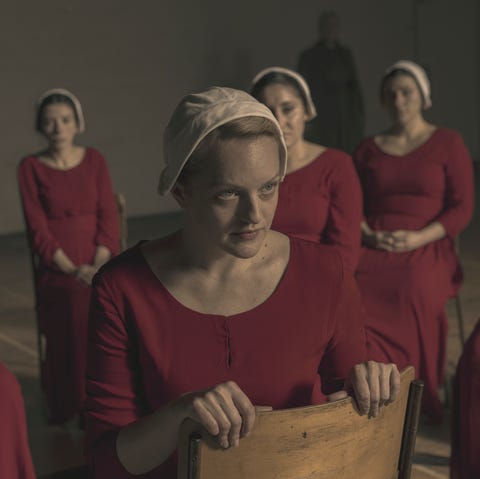 In response to people's curiosities, showrunner Bruce Miller told Harper Bazaar, "It'll always stay June's story…The show is all from June's point of view…My intention is that the show will always be in June's point of view". In an interview with Vanity Fair, Miller signified the presence of June, stating that "When June dies, our guide dies, and our show dies".
Will Nick probably have a bigger role in season 4 of The Handmaid's Tale?
The affair of June Osborne and Max Minghella's Nick was a bit delightful and hopeful aspect of the story. But Nick's shot appearance in season 3 landed fans in disappointment who expected more of him to be shown in the series. Miller feels a little heartbroken as he loved the character and had scenes for him that were filmed but weren't used. But we hope our best for season 4 to bring Nick as a significant character. On being asked about Nick's role in season 4, Miller said in an interview with Harper's Bazaar, "I don't [know]. I'm really excited to go back, and I know that the direction of the show is going to shift".
Who is in the cast of The Handmaid's Tale season 4?
Till now, there is no news about who will be returning in season 4. Though, we expect the majority of cast to return, including  Elisabeth Moss as June Osborne, Yvonne Strahovski as Serena Joy and Ann Dowd as Aunt Lydia. O.T. Fagbenle as Luke, Alexis Bledel as Emily and Joseph Fiennes as Commander Waterford could potentially return. But, Rita, who played Angela, will not be returning, as she confirmed the news to Harper's Bazaar.